zos
Vegetable-tanned, aniline-dyed and milled cowhide with a velvety soft surface that was first dyed light overall and then over-dyed in a darker tone, resulting in a different coloured cut edge. The leather may rub off on the inside, becomes softer with wear and may stretch.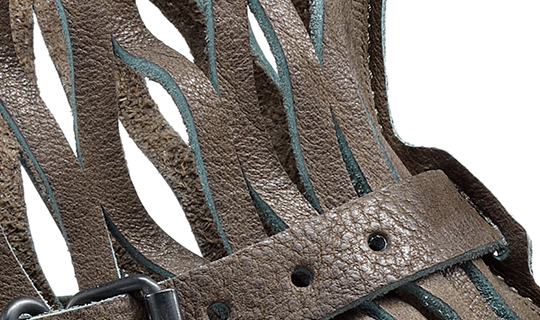 Colours for zos
brown

camel

khaki

alga

forest

blue

red

berry

orange

yellow
Care Instruction zos
The "zos" leather should be treated with waterproofing spray before use. Light soiling is best cleaned with a suede brush or a soft cloth. However, the light colours in particular are almost impossible to clean. Some stains, such as those caused by grass or oily liquids, cannot be removed at all.
If a white layer has formed on the leather, please do not worry. It is only a little excess wax. This can be rubbed off particularly easily if you warm the leather briefly with a hair dryer beforehand.