glm
Vegetable-tanned, thin buffalo leather with pull-up effect and extremely shiny surface that is coloured by hand. The manual colouring gives the material a very vivid look, however, the colour may leave marks on the inside. The leather will darken gradually and with exposure to sunlight. The leather gets softer and can stretch with wear. The vibrant colours are especially sensitive to staining, moisture and scratches.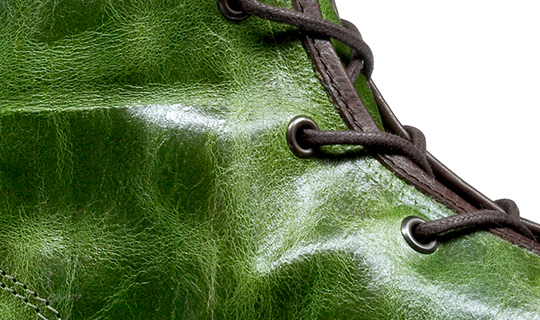 Care Instruction glm
This leather has a very thin grain layer, is extremely sensitive to abrasion and difficult to clean. Wipe dirt off gently using a soft cloth. Moisture - both from inside or outside - can leave marks and result in colour changes. Liquids like oil and even dirt can also leave irreversible stains on the leather.
Do not use waterproofing spray on any light colour, as the use of shoe care products can result in colour changes. Dark colours can be maintained with a gentle shoe polish and a soft cloth.
Small scratches can be treated with matching nail polish.