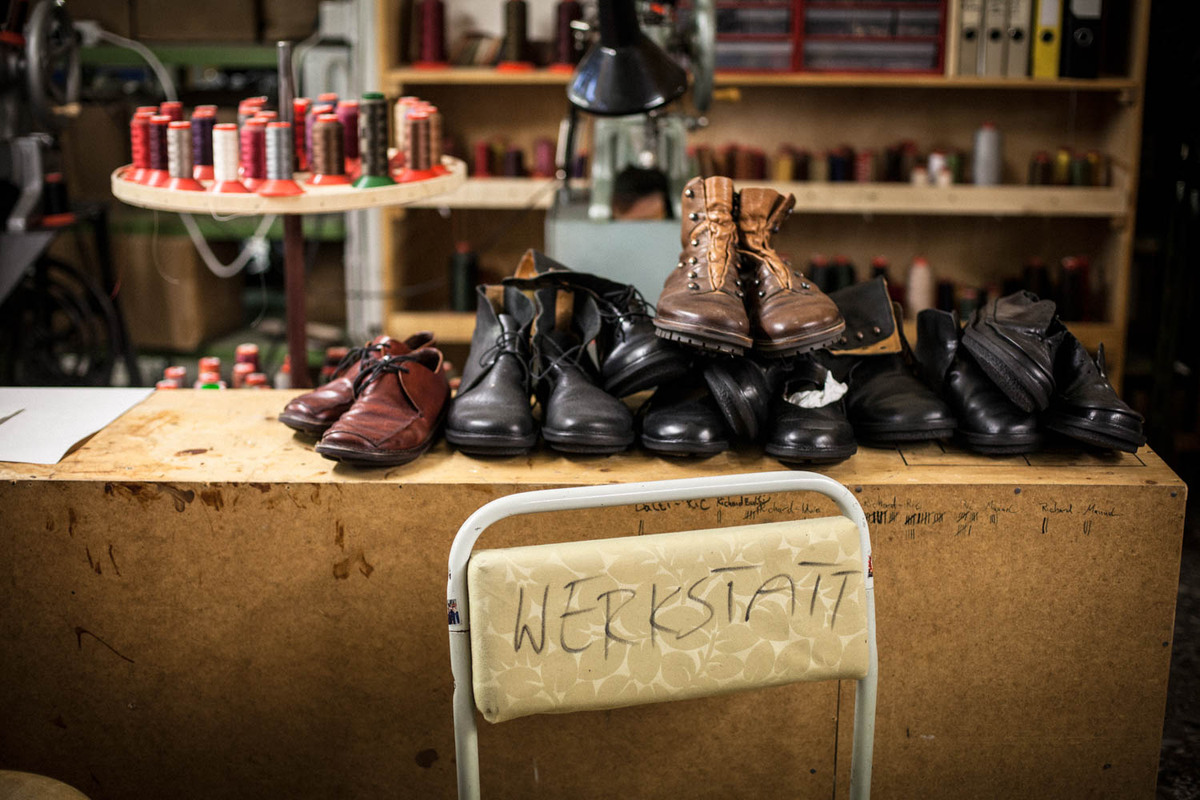 Reparability is an important part of Trippen's concept.
Various components, such as the insoles of the Closed and Cup collections as well as the rubber soles can be exchanged and replaced. We also offer a comprehensive repair service for all our other styles. Normal processing time for repairs is around 4 to 6 weeks.
For a resole or repair, simply send your Trippen shoes/boots by pairs to the following address:
Trippen direkt GmbH
Industriestrasse 8
16792 Zehdenick
Germany
Please enclose a short note stating your name, postal address, phone number and e-mail address. Please also include information on what you would like to be repaired and let us know the desired payment method. Repairs sent back to an address in Germany will be delivered free of charge.
Shoes/boots sent back to an European country will cost additional 12 - 25 Euros postage, the postage as to overseas shipments is 32 - 40 Euros. Payment is possible by PayPal, bank transfer in advance or credit card
(Mastercard, Visa, American Express).
Price list (pair prices):
Resoling Closed: 53€
Resoling of wooden styles: 28€
Resoling Cup/Sport/Box/Swan: 65€
Resoling Penna/Happy/Splitt/x+os: 56€
Heel lining: 13€
Heel lining for high boots: 18€
Zipper up to 20 cm: 32€
Zipper between 20-30 cm: 42€
Zipper from 30 cm: 53€
Velcro fastener: 14€
Toe strap (Zen): 18€
Stiching (simple): 7€
Stiching (moderately difficult): 14€
Stiching (difficult, as f.ex. with Alpin or Blow): 18€
If you would like to pay by credit card, we need your card number, expiry date and the three-digit security code on the back of the card. The amount will only be charged from your credit card account the day the repaired shoes/boots are dispatched. If you prefer to pay by PayPal or bank transfer in advance, we will contact you once the repair is finished. The shoes/boots will be dispatched as soon as we have received the payment.
If you live outside the EU, please necessarily mark your shoes/boots as:

"goods with no commercial value, value for customs purpose only, shoes/boots for repair, value less than 50 Euros."

In addition, please never mark the parcel as "returned goods" because this could lead to further customs problems.