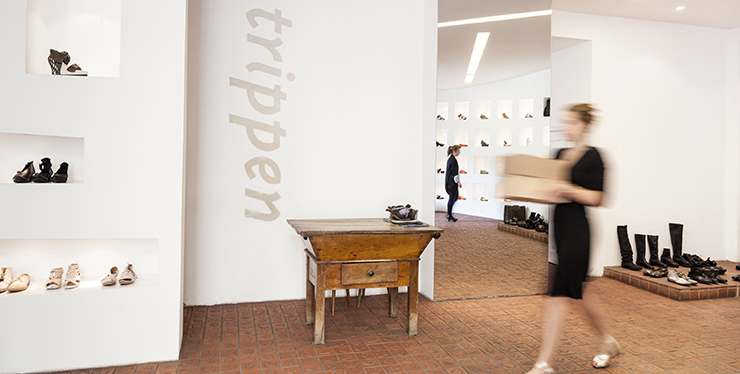 Trippen Flagship Store
Hackesche Höfe, Hof 4 & 6, Rosenthaler Strasse 40/41, 10178 Berlin, T +49 30 283 91 337
Mon – Sat 11:00 am – 7:30 pm

The first Trippen flagship store opened in the Hackesche Höfe, in the old centre of Berlin, in 1995. During the early '90s, the young and innovative art, clubbing and fashion scenes established themselves here. Due to limited financial means and the desire to create a new way to present footwear Angela Spieth and Michael Oehler developed the shop design we still today implement in all our stores worldwide: undulating white walls with illuminated boxes, low platforms that offer a bird's eye view of the collection, floors covered with handmade terracotta tiles decorated with reliefs of the first wooden shoe collection and no background music. In 1996, Trippen's potential was discovered in Japan, and the first two partner stores open in Tokyo the following year. By this time, numerous partner shops in Germany, Great Britain, Israel, Japan, Taiwan, Hong Kong, China, Mongolia and the US had joined Trippen's own stores in Berlin, Cologne, Munich and Paris.

In 2018 Trippen celebrated the opening of P100, a collaborative project space. The concept foresees evolving creative exchange and collaboration with artists, designers, galleries, photographers and publishers. The new location at Potsdamer Strasse 100 in Berlin will provide space for creative ideas and support emerging talent as well as presenting established artists and labels.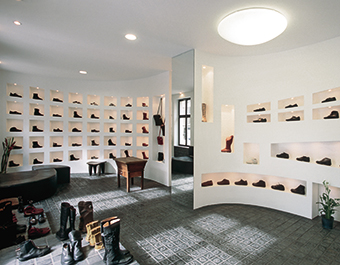 Trippen Köln
Flandrische Strasse 10a
50674 Cologne
T +49 221 453 18 645
Mon – Sat 11:00 am – 7:00 pm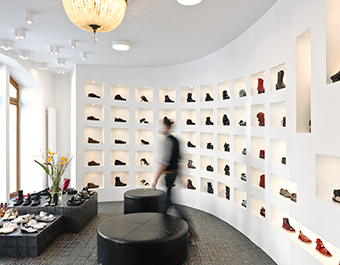 Trippen München
Türkenstrasse 92
80799 Munich
T +49 89 287 78 181
Mon – Fri 11:00 am – 7:00 pm
Sat 11:00 am – 6:00 pm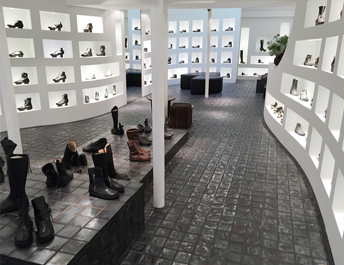 Trippen Paris
40, rue de Saintonge
75003 Paris
T +33 1 43 48 18 07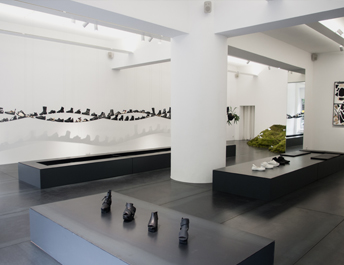 Trippen P100 Project Space
Potsdamer Strasse 100
10785 Berlin
T +49 30 246 322 84
Mon – Sat 11:00 am – 7:00 pm