elk
Chrome- or synthetically-tanned elk or deer leather with a covering coat of colour. Extremely soft, flexible and pleasant to wear. Elk has a highly textured, irregular surface, which is sensitive to scratches, abrasions and stains. The dye can stain your feet. Gets softer with use, may stretch substantially and generally ages faster than other leather. Not recommended for people with chrome allergies.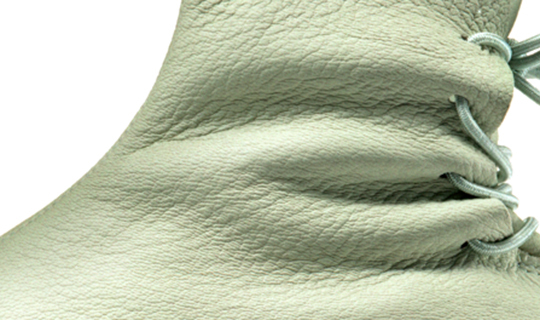 Colours for elk
taube

navy

petrol

fog

khaki

maggio

green

lemon

yellow

gold

wine

flieder

love

blue

perla

beige
Care Instruction elk
Elk has a very thin grain layer, is extremely sensitive to abrasion and difficult to clean. Wipe dirt off gently using a soft cloth. On light colours the use of waterproofing spray and shoe care products can result in colour changes. Dark colours can be maintained with a gentle shoe polish like Collonil Waterstop Colours and a soft cloth.
The leather can stretch, especially when wet and might be stiff after it has dried. Therefore it is best not to wear your shoes every day, rather only every third day, so the shoes can dry naturally in between.
Small scratches can be treated with matching nail polish.