tiz
Soft, vegetable-tanned, aniline-dyed calf leather with suede surface and markings that give the material an antique, "used" look. Gets softer with wear and may stretch substantially.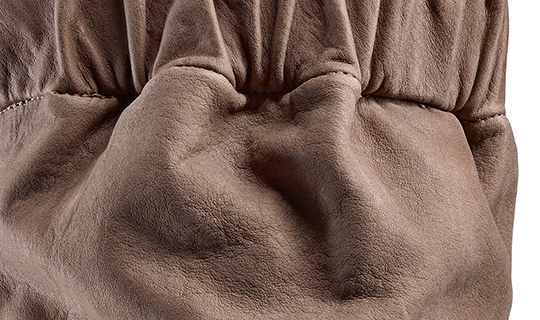 Colours for tiz
black

espresso

cuoio

smog

grey

navy

petrol

granit
Care Instruction tiz
Vegetable-tanned leathers are extremely sensitive to humidity. Therefore, wipe dirt off gently using a soft cloth. Moisture - both from inside or outside - can leave marks and result in colour changes. Liquids like oil and even dirt can also leave irreversible stains on the leather.
Nubuck leather is sensitive to moisture and staining and rather difficult to clean and thus should be treated with waterproofing spray prior to use. Slight stains can be cleaned using a suede brush or a special nubuck cleaning block. The light colours are particularly delicate and very difficult to clean. Some stains such as grass or oily liquids cannot be removed at all. Nubuck leather should never be treated with shoe polish.
If you notice a thin white layer on the leather, this is no cause for concern. It is only surplus wax that can be easily removed. This process is even easier if you heat up the shoes carefully for a moment using a hair dryer.